Zante Park Resort & Spa: a remarkable 5-star stay experience in Zakynthos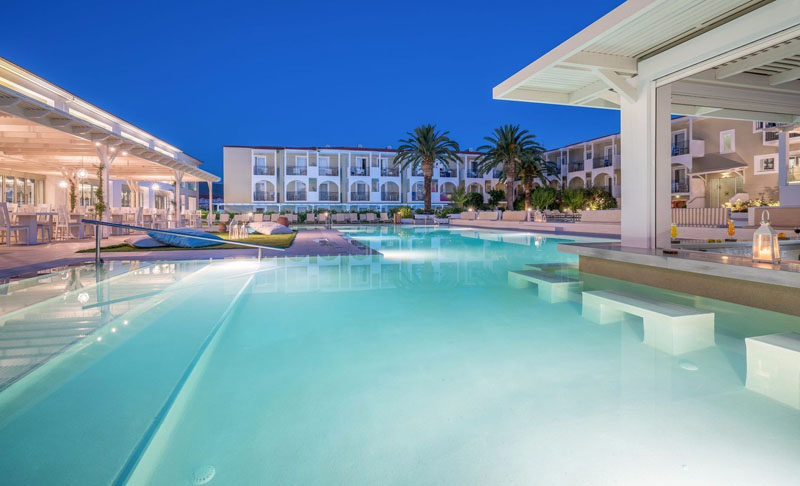 In Zante Park Resort & Spa you will enjoy the privileges of 5-star services and feel the pure Zakynthian hospitality at the same time...
Situated in a setting of exceptional natural beauty, on the famous gulf of Laganas, Zante Park Resort & Spa masterfully combines comfort with luxury and offers 5-star services and all-inclusive packages that will satisfy even the most demanding visitor, being a proud member of the Best Western hotel chain. The elegant rooms and suites, the magical nearby beach, the relaxing pool, the local gastronomic tastes, the Spa & Wellness treatments, offer a unique vacation experience!
Rooms & Suites
Synonymous of comfort and luxury, Zante Park Resort & Spa features 140 fully equipped and stylishly decorated rooms that aim to cover each visitor's needs and provide them with the peace they seek during their vacation. Twelve room types to choose from – superior rooms, family rooms, luxury suites, suites with private pool – all of them will become your personal resort.
Food & Drink... by the pool
While being at Zante Park Resort Hotel & Spa, you can immerse yourself into a unique gastronomic experience full of traditional recipes and numerous tasteful surprises. The "Windows" restaurant will offer you plenty of delicious Mediterranean flavors and the cozy bars will become your favorite spots throughout the day and introduce you to a fascinating world of fragrances, flavors and senses.
Spa & Wellness services
Holidays mean relaxation and here you can have a nice sense of wellness through complete facilities. The wellness services provided at the hotel are aimed at offering guests the much-needed balance they seek during their stay. Energize yourself to the gym, surrender to the powerful tranquility of Sauna and Jacuzzi and indulge in a Spa treatment, letting all your anxieties and stress go.
Location
The hotel's excellent location makes it the perfect starting point to explore the island of Zakynthos. You can take advantage of many beautiful routes and enjoy the remarkable natural wealth of the area that reveals a cosmopolitan aura at the same time. Zante Park Resort Hotel & Spa is located only 300m from the famous Laganas Beach, 5km from the Airport and 7km from Zakynthos Town & the Port.