The Beachhouse Apartments, Aegina: Balance your Energy on this unique spot
Address: Vagia, Aegina Island, Greece
Tel: +30 6947255821
E-Mail: info@thebeachhousegreece.com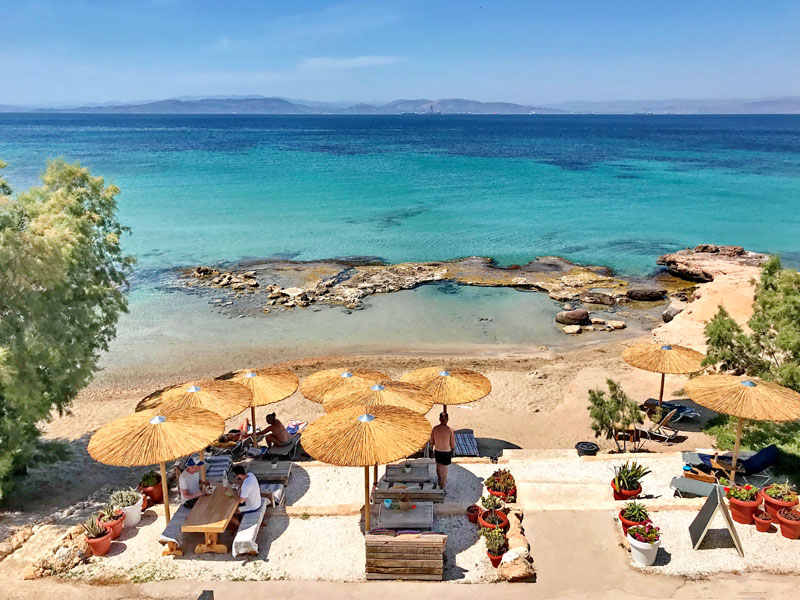 A place to heal and balance your energy on Aegina island in Greece…
Your colorful apartment is just a few steps away from the idyllic beach in front…
In Vagia, on the green north side of Aegina island, you will find this little healing paradise, a favorite area for those looking for a relaxed vacation or those that would like to work remotely away from the crowd. The Beachhouse Apartments are located in front of a lovely cove with crystal clear water, protected by a natural stone formation. A complex decorated with love and care by manager and founder of AeginaHealing.com, Lizzy.
The Beachhouse Apartments & Villa
All 8 catering apartments have their own atmosphere, unique art works and colorful settings. Each apartment's kitchen wall reflects a color of the chakras and is named after it. The Beachhouse Villa can accommodate up to 6-8 people and has a super sea view rooftop terrace over the Saronic Gulf.
The Beachhouse Beach Bar
During the day, The Beachhouse Beach Bar serves revitalizing smoothies, celery juice, Matcha tea, almond & soya milk, fresh refreshments, fruit salads, cocktails and tasty bites. At the beach you will find comfortable seating and sun loungers and during summer months music evenings are organized with easy listening acoustic live music.
Energy Balancing Healing Sessions
It is highly recommended to experience an Energy Balancing Healing Session offered by Lizzy, during your stay. Through her unique guided sessions, you will feel your body brought back into balance, energized and lighter. An experience that will upgrade your holidays on another level!