Guesthouse 'Kypseli': Simplicity & Comfort in the alpine landscape of Tzoumerka
Address: Kypseli - Arta, Tzoumerka - Epirus
Tel: +302685071100
E-Mail: info@xenonaskypseli.gr
Website: http://xenonaskypseli.gr/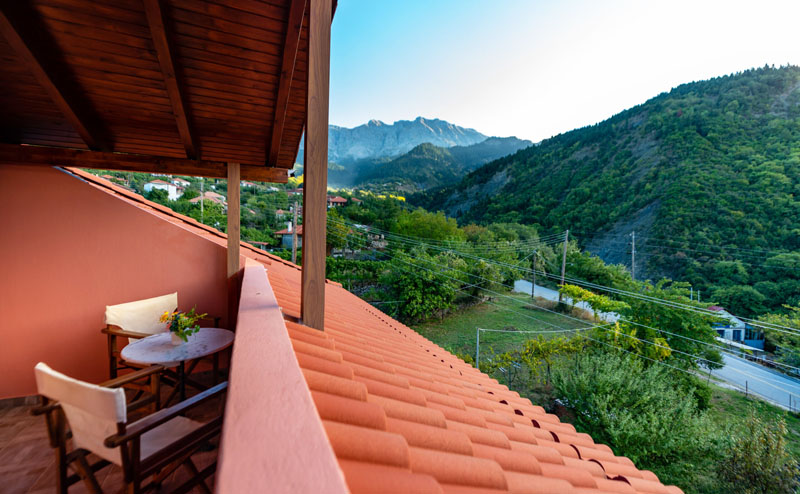 In mainland Greece, in Epirus region, stands the imposing Tzoumerka mountain chain, untouched by the modern civilisation. On the slopes are Tzoumerkochoria villages, traditional settlements with old churches, stone-built bridges and rich in natural environment.
In the 'heart' of Tzoumerka, in the village of Kypseli and in a scenery of unique wild beauty, you will find the Guesthouse "Kypseli", an excellent choice for your accommodation.
Each room of the Guesthouse is made with care and high quality materials and has its own private balcony to enjoy the unlimited view of the alpine landscapes. The rooms, double, triple and two beautiful attics, are spacious, fully equipped with independent heating system, TV, fridge, wi-fi and most of them have a kitchen.
In "Kypseli" Guesthouse you will start your day ideally, with a rich breakfast of homemade pancakes, traditional pies, cakes, fresh juices and locally produced products. Then, you will discover the beauties of the surrounding area, on which the owners of the Guesthouse will happily inform you, and finally you will experience moments of relaxation next to the traditional fireplace in the common living room, with the imposing nature of Tzoumerka as your background. A place where you can feel the real luxury in pure simplicity!