EXPERIENCES: Oradea in Romania: A city full of history & culture. By Antonia-Alexandra Szabo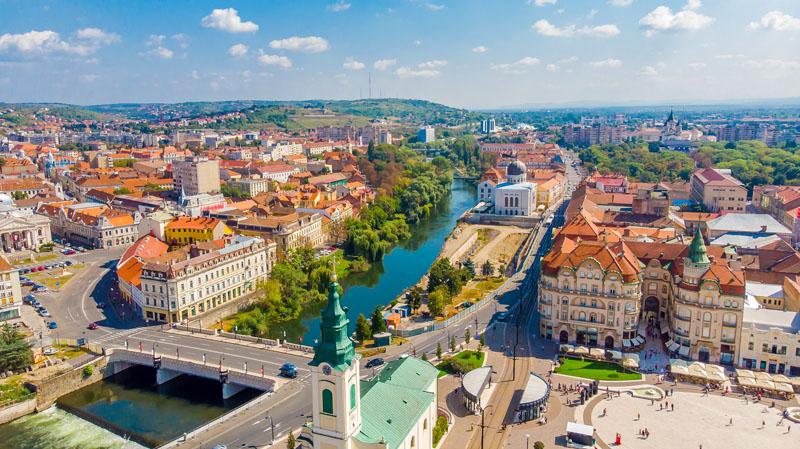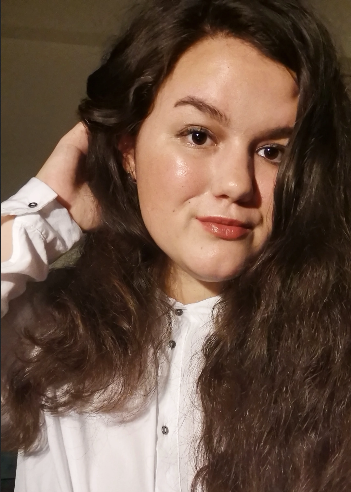 By Antonia-Alexandra Szabo
Universitatea din Oradea
Erasmus+ student at the School of Journalism & Mass Communications, Faculty of Economic and Political Sciences, Aristotle University of Thessaloniki, Winter semester 2021-22
(The article was written and published in terms of the course "Writing Personal Columns in Newspapers, Magazines & Blogs", Erasmus+ Programme of Aristotle University Thessaloniki.)
Oradea, situated in Bihor County, it's the first city you find after you cross the border. It is situated on both sides of Crișu Repede river and it was built in a multitude of styles, under the domination of different empires.
If you take a look at the architectural style, you will observe that there are parts of Ottoman heritage, Austro-Hungarian heritage and Jewish heritage. When you arrive in the city centre, you will find strong colours on buildings, such as blue, even different paintings.
Palaces & Churches
There are different palaces in the city centre, built by Hungarian Jewish architects. The Black Eagle Palace (Palatul Vulturul Negru) is the first palace that you should consider visiting. When I first entered, I had a feeling of how little and insignificant I am. From the inside, the building seems even bigger than from outside. The first thing that impressed me was the eagle painted on an art nouveau styled glass. The second thing that crossed my mind was how people were able to build such palaces in 1907s. Maybe if I were an architect I would like to try to rebuild (in miniature) this palace.
Of course, in the big corridors and huge space that the palace has, you will find different cafes and shops, cinemas and even a theatre. It's a relatively quiet zone because even if it's spacious, you won't find a lot of people inside.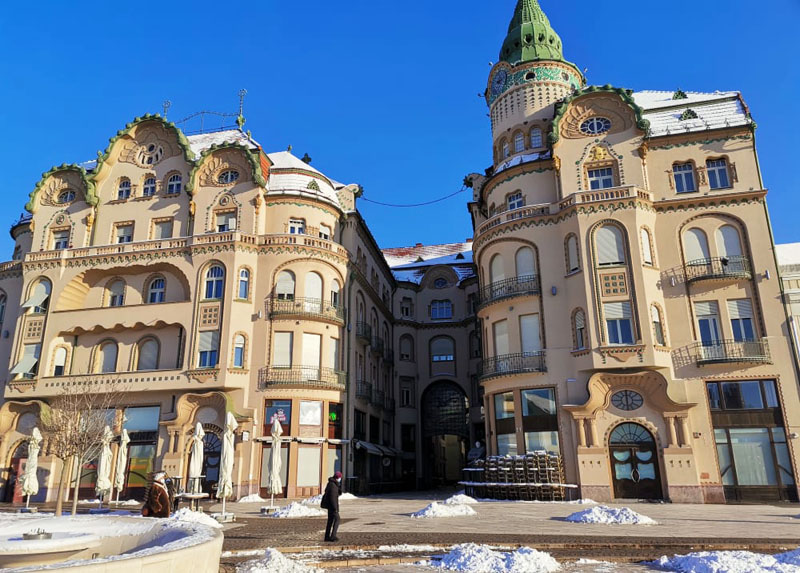 Another interesting thing in Oradea that attracted me was the Late Baroque Church of Moon (Biserica cu Lună). It is really fascinating that this church was finished in 1970, but the even more fascinating thing is the clock mechanism. It was installed in 1973 and it features a half-black, half-gold sphere, maintained in perpetual motion, reproducing this way the phases of the moon and lending the church its name.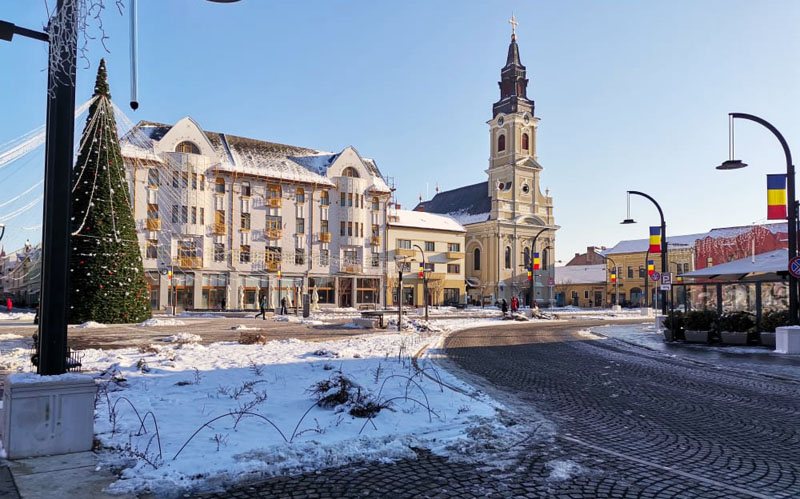 Local foods
What really impressed me was the combination of foods of different cultures. Romanians do not really have local food, so you have to choose between polenta and cabbage, or even shaorma, kebab or different kinds of soups. I've had some of these in a cafe in the palace. You can try the combination between polenta, sour cream and some salty cheese. During the World War II, this was the main type of food that Romanians were eating, because it's easy to prepare and it gives you a lot of energy. The main ingredient of polenta is cornflour. Cabbage is something that the nation has inherited from Greeks and Ottomans. It's basically cabbage stuffed with minced meat and rice, boiled on a small fire for around 4 hours.
The Union Square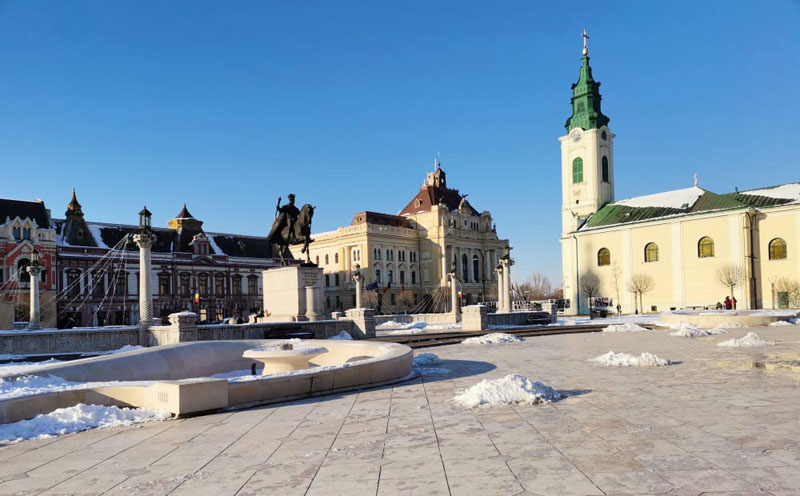 Overall, it's like you travel back in time, in the 1970s. The vibe that Oradea has is something similar to a museum, but that museum is your home and you are able to admire the artworks everyday, every time you wish. In the middle of the Union Square (Piața Unirii), you will find a great statue of King Ferdinand who is also named "The integrator of Romania". It's like you have the great honour to explore the Square while the king is watching you. If you want, you can even show your respect for the king by even bowing, maybe the leading party of the county will join you.
Let me tell you something more about the Square: it's like Hollywood for the actors. If you have the opportunity to walk by and be part of a festival, you will feel like a rock star. Oradea has two big festivals: Autumn Fall Festival (Toamna Orădeană) and The Christmas Fair (Târgul de Crăciun). Since the pandemic, unfortunately they were cancelled, but when the pandemic is over, the leading council said that they want to organise something similar to UNTOLD Festival (it's the biggest music content festival in Romania). Anyway, the Autumn Festival and the Christmas Fair bring the whole city together and even tourists from abroad.
So, did I convince you to visit Oradea? Will I see you here? Can't wait to see your reactions when you meet the city and see how all types of heritages were combined: from Ottomans, to Austro-Hungarians and Jewish, we have everything and we cannot wait to see you...