EXPERIENCES: Homage to Thessaloniki city. By Bjørg Davidsen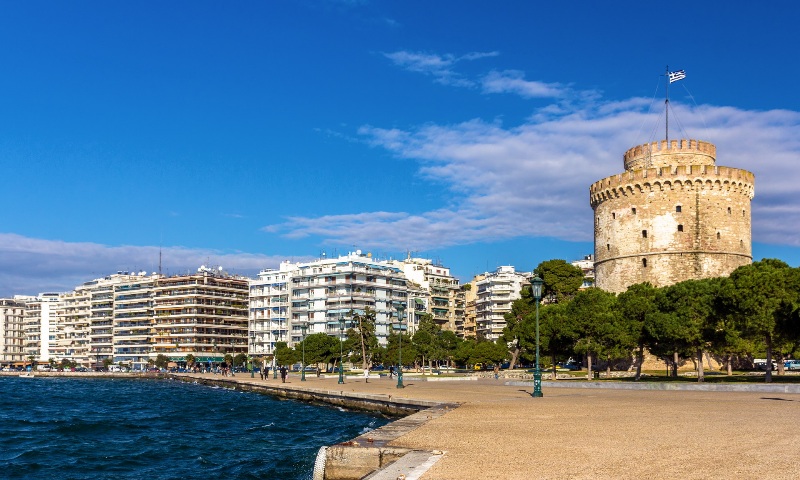 By Bjørg Davidsen
Oslo and Akershus University College of Applied Sciences, Norway
Erasmus+ student at the School of Journalism & Mass Communications, Faculty of Economic and Political Sciences, Aristotle University of Thessaloniki, Winter semester 2021-22
(The article was written and published in terms of the course "Writing Personal Columns in Newspapers, Magazines & Blogs", Erasmus+ Programme of Aristotle University Thessaloniki.)
This is a homage to the second biggest city in Greece, who got the biggest place in my heart. From the Norwegian tourist who stayed for more than one weekend…
"I am leaving to Greece for my exchange-semester", I told my friends. Everybody got so excited for me, because as tourists, we all love travelling to Greece. And as Norwegians – we are all tourists. They kept asking me where I was going and as I mispronounced Thessaloniki, in an attempt to give them an answer, they looked at me with question marks all over their faces. "Where is that?" they asked. "I don't know", I answered.
Even though Norwegians love travelling to Greece, they usually only travel to the famous islands. They crave the sun, the cheap beer and the opportunity to post some amazing Instagram-pictures showing off the paradise they are currently in. Apparently, we do not know what the second biggest city in Greece is. Neither did I, until now - and now I will never forget it.
Consider this my thank you-note, Thessaloniki. The unknown paradise I have got to call my home for the past four months. Thank you for all the ouzo and tsipouro, which have been both a blessing and a curse. Thank you for letting me stay for four months, even though voyagetips.com recommend staying at you for only two days.
Thank you for all the signs I did not understand, and for all the people who started talking to me in Greek, because my blonde hair and blue eyes apparently did not make me an obvious tourist.
Thank you for the lady at the bakery who always brightened my morning with a smile as she gave me my coffee. For all the amazing seafood at beautiful tavernas. For the museums and the rich history you have to offer.
Thank you for letting me sing Mamma Mia-songs for four months straight and for allowing me to live my best life in Greece. Thank you for the late busses and for all the Greek music playing in the clubs.
Thank you for giving me the sun in December and for giving me the sea when I missed home.
In the taxi on my way to the airport, after these four months, I talked to the taxi driver. I told him about my experience and with a surprising look on his face he said: "Four months? Usually, people just stay here for a weekend. Or actually they just stay here enough time to take a picture of the White Tower before they leave again." I jokingly told him that I am not the most talented photographer and therefore had to stay four months to get a good picture of it. He laughed, before encouraging me to come back soon. An encouragement I didn't really need…
As I am moving back home to Norway, I'll remember just how good you were to me, Thessaloniki. Because, despite the confusing language and deadly traffic, there was love. In the people I met and in the places I saw. There was love.
Thank you for showing me that the heart has room enough for the love of two home-countries.
Let us not forget that I am still a Norwegian tourist, and therefore I will end with this: Thank you, Thessaloniki. For the sun, the cheap beer, the Instagram-pictures and so much more...