Minor Cyclades. These may be some greek islands you've never heard of!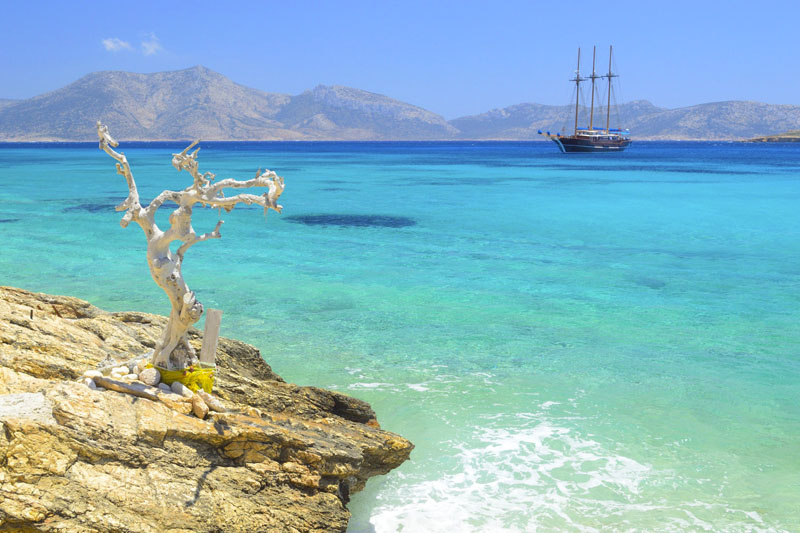 Iraklia – Schinousa – Donousa – Koufonisia: these small islands and the uninhabited Keros Island form the picture-perfect group of the Minor Eastern Cyclades in the archipelago south-east of the island of Naxos. Here, you may find the paradise you're looking for!
Golden sandy shores washed by pellucid turquoise waters, sheltered coves, amazing geological formations, white cube-shaped little houses with flower beds in their yards, open-hearted people, delicious local products, fish fresh off the sea, and a relaxed pace of life. Things that for many people are the description of their dream summer holidays.
Iraklia: tranquillity dressed in blue

Iraklia is the largest of the group. This gem of an islet is endowed with rolling hills, scenic coves, rare native flora species and old stone-paved pathways which invite exploration. Populations of the Mediterranean monk seal monachus-monachus, and of the sea turtle caretta-caretta, live by the island's shores. Life on its two charming villages follows a leisurely pace: Panagia is an inland village with white cube-shaped little houses and Agios Georgios is the island's harbour where most of the hotels and studios are to be found. Iraklia's most interesting walking destination is the Cave of the Sacred Icon of Agios Giannis where an initial scramble through the entrance leads to a sequence of caves full of stalactites and stalagmites. The cave is about a two-hour walk (one way) from the port area on a signed path.
Donousa: a turquoise dream

The northernmost island of the Minor Cyclades group lies between Naxos and Amorgos Islands. Stavros is the island's capital town and harbour. Mersini, Charavgi (Mesaria) and Kalotaritissa villages are three picturesque destinations well worth visiting. Go hiking in the countryside so sweet-smelling with aromatic herbs: the island's 13.65 sq. km area is easy to explore on foot. You'll find beaches with light-coloured sands, a beautiful sea cave where you'll enjoy diving in, and tavernas to taste local scrumptious dishes.
Schinousa: invites for a hike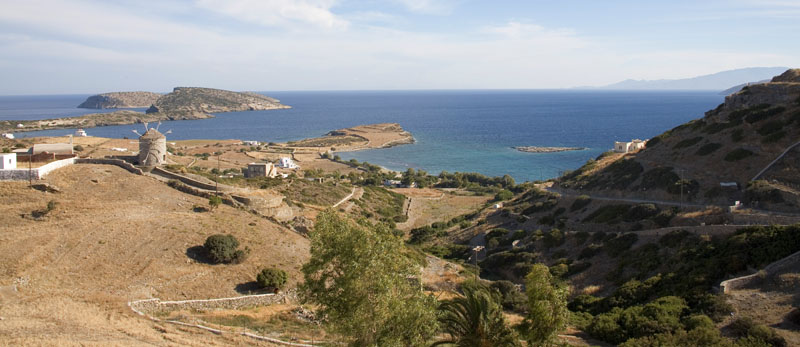 This small island is located near the centre of the Minor Eastern Cyclades group. Here you can enjoy the beautiful sunset views, explore the sheltered inlets, the pretty little villages, the beaches of golden sand and follow the easy-going pace of life that is disrupted only during the period of local traditional feasts. A car is unnecessary here, as the island's 9 sq. km area is quite easy to explore on foot; it'll take you one and a half hour at the most! There are three villages: Hora (Panagia) is a picturesque group of small whitewashed houses with their yards full of basil pots and bright-coloured bougainvilleas; sheltered Mersini - once a pirate hideout - today is one of the safest docking areas for small vessels across the Aegean Sea; and Mesaria, the smallest village of the three, with kitchen gardens and grape vines everywhere you look.
Koufonisia: velvety sandy beaches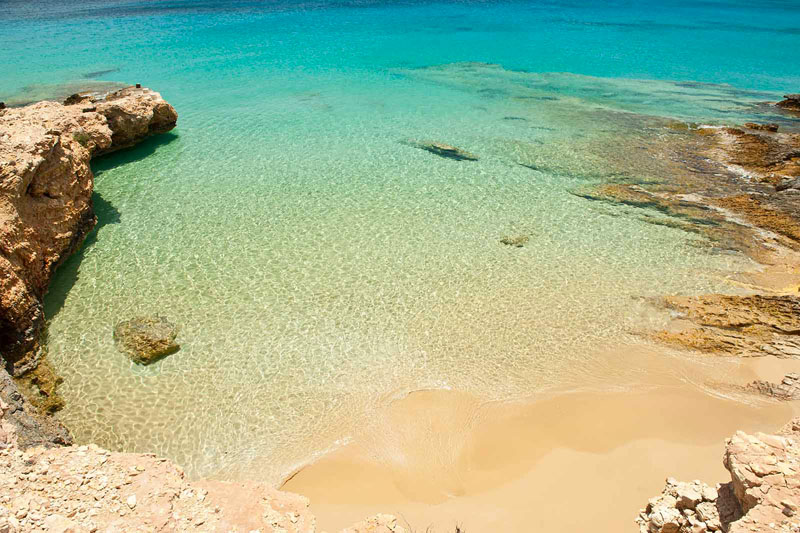 They are known as Ano Koufonisi and Kato Koufonisi, separated from each other by a narrow 200m wide strait. Their name means "hollow islands" because of their huge caves which were once seen by pirates from a distance and believed to be hollow. Only Ano Koufonisi is populated. This destination can guarantee a relaxing vacation by sheltered golden sand beaches and small natural pools of turquoise waters. Savour delicious seafood fresh from the sea and enjoy the local feasts celebrated in the traditional way.
Nearby, deserted Keros Island is a protected archaeological site, where prehistoric artefacts were unearthed (the most important being the Keros Harpist marble figurine belonging to a 3rd millennium B.C. Aegean Sea culture called the Cycladic Civilisation).