Greek 'Ouzo' Appetizers: A Flavourful Ritual
Ouzo is Greece's national alcoholic beverage, a strong anise-flavoured drink, enjoyed especially during the summer. Greeks drink it – preferably with friends – with two or three ice cubes that cloud its original water-like transparency, with added chilled water, or neat, and always accompanied with delicious titbits, called 'mezedes' in Greek (something like Spanish tapas). Ouzo's strong flavour is well-matched with dishes of spicy, salty, or even sourish mezedes. Small plates or platters with delicious bites are served and everyone helps themselves to the assortment of food while sipping their ouzo!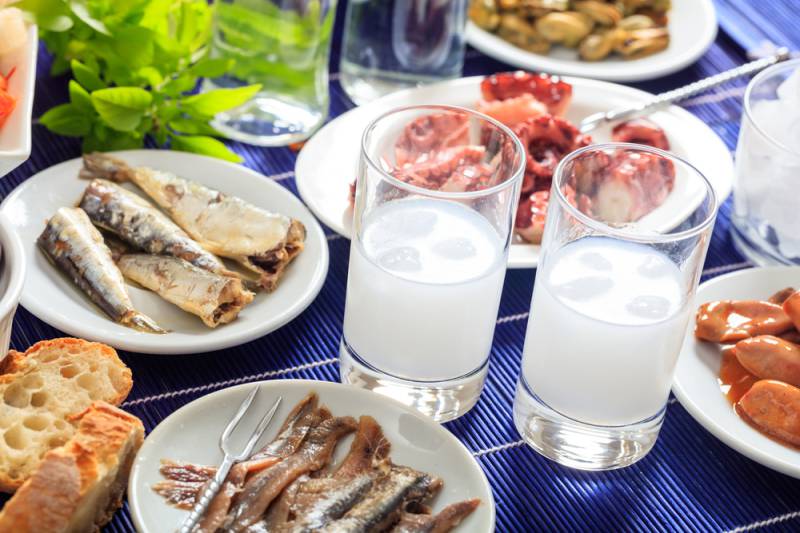 Scents & flavours that will grow on you
Greece's favourite spirit is best enjoyed in ouzo tumblers; in an ouzeri (ouzo taverna) it is usually served off small carafes. Anise's seeds delicate aroma will fill your nostrils and tickle your taste buds. Join your fellow diners and say 'stin iya mas' ('to our health', the Greek way of saying 'Cheers') as you clink glasses with them at the table. Feel your spirits rise as you sip your ouzo and your heart warms up in cheerful company.
The best way to accompany your ouzo drink is with an assortment of mezedes that vary each time a carafe of ouzo arrives at the table. The first round usually includes olives pickled in vinegar, salt-cured sardines, cheese, pickles, and charcuterie or sausage bites each one pierced with a toothpick for easy picking. Your ouzo carafe will be refilled and served with the next round of mezedes at the table. Depending on the season and the location you will get to taste different mezedes. The dishes you'll try in a mountainous mainland village taverna in the winter are quite different from those offered in a seaside area in the summer.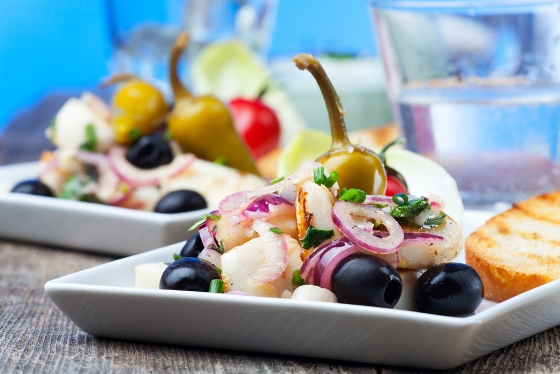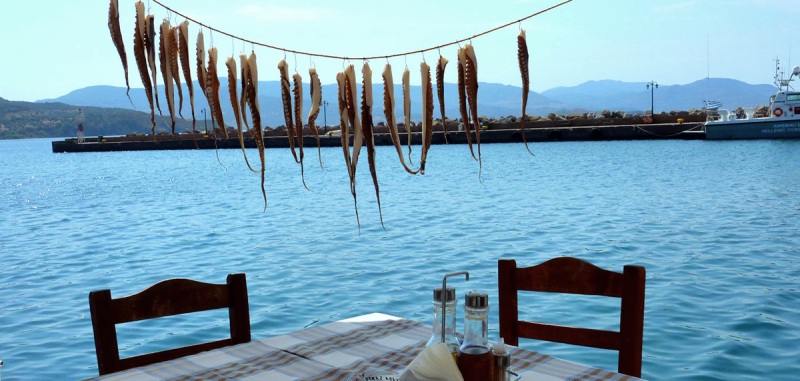 A world of mezedes!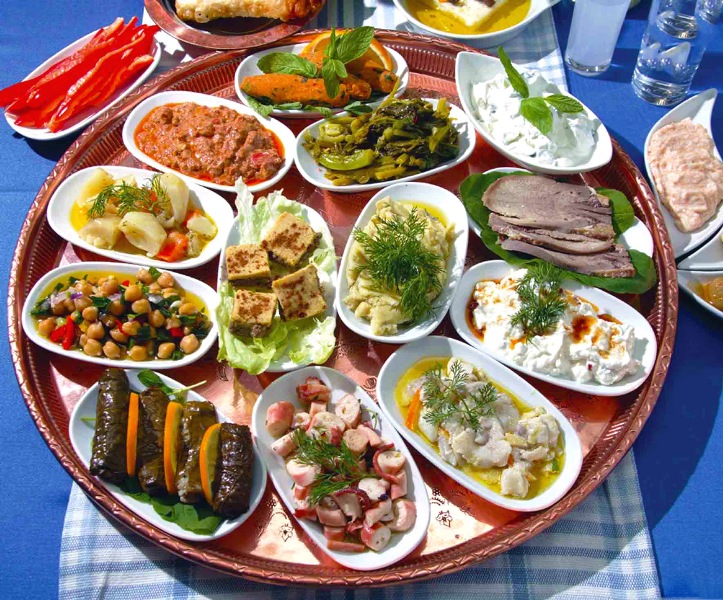 The list of scrumptious bites is a very long one. Seafood dishes usually include sun-dried octopus (allowed to hang in the sun and then grilled on the barbeque), saganaki shrimps peppered or not (shrimps cooked in a pan with tomato sauce, cheese and seasonings), steamed mussels, marinated anchovies with parsley and finely chopped garlic, fried calamari and a variety of shellfish served raw with fresh-squeezed lemon juice. Delicious salt-cured products, too, are a great match for your ouzo! Try sardines, mackerel, tuna, cold cuts (air-dried salami, pastourma), hard cheeses such as ladotyri, kefalotyri and oven-baked feta cheese with tomato and hot peppers. Your ouzo-drinking experience is far from complete, unless you accompany it with the famous tzatziki dip, a dish of smoked aubergine salad, or a spicy hot cheese mix called tyrokafteri.
Have we whetted your appetite? Next time you're in Greece, when someone invites you to an ouzo-drinking feast, don't miss out!
(source: visitgreece.gr)