Greek Cheeses every food lover should try
Greece has a century-old cheese-making tradition and you will be surprised to discover that Greek cheese includes more than just 'feta'. Their unique taste explain why in Greece the annual per capita consumption is higher than in any other European country. Soft, creamy and hard, white and yellow, fresh and mature, salty and sweet, each one a nobility, all produced with mastery and skill. Cook them, mix them, grate and sprinkle them, wine-tie them, fry them, stuff them, adore them!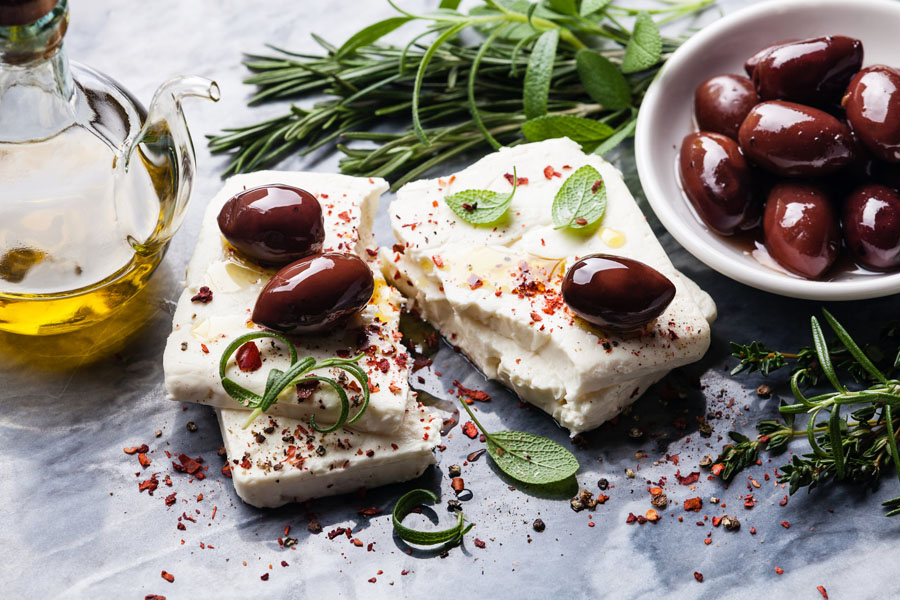 Here are delicious Greek cheeses you should try…
Feta
The national and most famous Greek cheese which Homer used to eat on his ancient Greek salad, as he retold to stories of Achilles and Odysseus' struggle to get home. Made with sheep or goat's milk, it is a soft white salty cheese that easily crumbles over the best of Greek dishes. As a main ingredient, it finds its way into savory pies or combinations of cheeses, or mixtures of greens and cheese. It is also a staple on the 'meze' table, and can be grilled or baked in paper and even sautéed, sometimes with a crust of nuts or sesame seeds or a simple egg and flour wash.
Kefalograviera
A mild cheese made from either sheep's or cow's milk. It is usually left to mature for three months before consumption.
Manoùri

A semi-soft, creamy and unsalted cheese made from sheep's or goat's milk whey.
Mizìthra

There are soft and hard varieties; made from sheep's or goat's milk. It is often consumed as a dessert with honey or in salads and pastries.
Anthòtiro
It is made with milk and whey from sheep or goats, can be fresh or dried and has been produced for centuries. The fresh soft, creamy version and the semi-hard variation has no rind or salt and it can be paired with honey and fruit, while the dry variation is dry and salty used as topping for pasta.
Metsovòne
Originated from Metsovo, a picturesque mountainous village in Northern Greece, it is a semi-hard smoked cheese made from cow's milk or a blend of cow and sheep or goat milk. It is an excellent table cheese but is also perfect for grilling.
Galotìri
Produced in Thessaly and Epirus, it is made from feta, milk and yogurt. It is milky and soft and can be used for dipping or spread on a piece of bread as an alternative to cottage cheese.
Kefalotìri
A traditional hard and salty cheese. It is the perfect for frying, it can be added on top of hot pasta, to stews and to sauces as well. It pairs perfectly with seasonal fruit and red wine.
Kassèri
It is a semi-hard cheese made from a blend of sheep's and goat's milk. It is pale yellow in colour and has a mild tangy flavour, slightly salty and a bit oily in texture.
Talagàni
Named after a Greek shepherd's traditional winter cape, this handmade traditional Greek grilled cheese is very similar to 'haloumi' but with a fuller and spicier taste. It is best eaten grilled or fried.
Xynotìri
It is an unpasteurised sour and hard whey cheese; it's also rather pungent. It is traditionally drained and cured in reed baskets or allowed to mature in bags made of animal skin.
Katìki
It originates from Domokos, in central Greece, and is a smooth but grainy naturally fermented cheese. It has a slightly sour aftertaste and it's drained in cheesecloths until it reaches a moisture of around 60 per cent, at which point it is ready for consumption. It's also known as shepherds' cream cheese.
Taste: Delicious Wrapped Feta Cheese With Honey and Sesame Seeds - Recipe